Attorney
Job Series Number: 0905


Legal Services at the BOP
Bureau attorneys represent the agency in a number of legal and policy matters and perform tasks related to their area of practice:
Commercial Law
Attorneys review agency procurements and provide legal guidance; represent the Bureau in protests and claims in Government contract matters; and advise staff on various commercial matters including copyright, tax and fiscal law.
Real Estate and Environmental Law
Attorneys provide legal assistance and litigation support on a variety of issues, including land transactions and environmental laws.
Employment Law and Ethics
Attorneys process administrative complaints of discrimination and provides advice and training on Government ethics, provide legal advice to Bureau management on labor/management and personnel issues, and represents management in various administrative and judicial forums.
Legal Administration
Attorneys process Freedom of Information and Privacy Act requests and assist in litigation of these cases, design and provide specialty training for paralegals, and oversee all attorney personnel issues.
Legislative and Correctional Issues
Attorneys provide legal assistance on correctional issues such as inmate rights and conditions of confinement, draft and review legislation that may affect the Bureau, and coordinate the Bureau's rulemaking process.
Litigation
Attorneys provide support on litigation filed in the District of Columbia and on cases having national impact on Bureau programs and policies. In addition, they oversee inmate grievance programs and claims filed under the Federal Tort Claims Act.
Pay Levels GS-9, GS-11, GS-12, GS-13, GS-14, GS-15
The Bureau of Prisons hires:
Experienced attorneys with one or more years of experience

Experienced attorneys are hired on a regular basis to fill specialized positions within the various practice areas of OGC. Applicants for these positions must have had their J.D. degree for at least one year (or have their LL.M. or other graduate degree in addition to a J.D.) and be duly licensed and authorized to practice as an attorney under the laws of a state, territory, or the District of Columbia.

Learn more about opportunities for experienced attorneys, including how to apply

Entry-level attorneys: through the Attorney General's Honors Program

The DOJ only hires graduating law students through the Attorney General's Honors Program. The Bureau's program is a two-year fellowship in Central Office. This fellowship provides Honors Attorneys the opportunity to experience the wide range of legal practice in the Central Office, and each Honors Attorney will have the opportunity to practice in three or four different areas.

Students in their final year of law school who will graduate in the fall or winter prior to the year in which they will be employed, or in the spring or summer of the year in which they will be employed, are eligible. Judicial Law Clerks are also recruited under the Honors Program. However, the clerkship must be the first significant legal employment following law school graduation, and it must begin no later than nine months post-J.D. The amount of time served in the clerkship cannot exceed two years. Only persons who will conclude their clerkships on or after October 1 in the fall of the year in which they apply are eligible for consideration.

Learn more about the Attorney General's Honors Program, including how to apply

Students: Through the Summer Law Intern Program

Law students in the Summer Law Intern Program benefit from an exceptional legal experience and invaluable exposure to the Department of Justice and are compensated.

Learn more about the Summer Law Intern Program, including how to apply
We are hiring for this position at many locations across the country.
Normally when a vacancy is announced, it's for a job opening at a specific location. However, because this position is in high demand it's considered an "open-continuous" announcement. That means you get to choose your top two facilities that you want to work at. Here's how it works:
Apply for this position using the usajobs.gov website as you would do with any other federal job.

Select any two locations that you want to work at.
View all of our locations
After your application is accepted, you will be added to a standing register of qualified candidates.
When a position becomes available at one of the facilities that you selected, you will be considered for that position, and if you are selected we will contact you with an offer.
It's that simple!
Experienced attorneys can search for attorney vacancies.
For questions about job openings or further information, please contact a BOP Attorney Recruitment Coordinator at 202-514-6105 or via e-mail at legal@bop.gov.

"What attracts me to the BOP is the ability to practice law in a wide variety of specialized areas. "
Learn More ...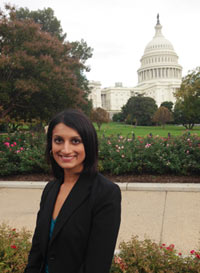 " While in law school, I was an intern at the Northeast Regional Office of the Federal Bureau of Prisons (BOP) in Philadelphia. After graduating from law school, I was hired by the BOP through the Attorney General's Honors Program in September 2002. I went on to work at the Metropolitan Detention Center in Brooklyn, New York; the Metropolitan Correctional Center in New York, New York; and the Litigation Branch in Central Office, Washington, D.C. I am currently the Executive Assistant for the Office of General Counsel.
What attracts me to the BOP is the ability to practice law in a wide variety of specialized areas. Attorneys for the BOP work on challenging legal issues such as inmate conditions of confinement, contract disputes, policy interpretation, staff grievances, real property acquisition, and issues relating to the Freedom of Information Act (FOIA). There are also opportunities to work on non-legal matters outside of the Office of General Counsel. Additionally, with over 117 federal prisons, 6 Regional Offices and the Central Office, there are considerable opportunities to move around the country. It has been a rewarding experience so far and I look forward to the remainder of my career with the BOP. "
Rina Desai
Executive Assistant
Office of General Counsel
Do your career justice
Come and work for a one of the most unique agencies in the United States Department of Justice where each employee's day-to-day performance makes a difference. Our family and career-oriented agency promotes integrity, diversity, and professional development.
We offer:
A supportive, safe, and secure environment with opportunity for growth and advancement.
A competitive federal government salary and benefits, including health care and retirement.
Potential for recruitment incentives.
Flexible work options.
Learn what has motivated more than 38,000 people to join the BOP