Correctional Officer
Job Series Number: 0007

SECURE AND PROTECT WHILE YOU TEACH AND INSPIRE.
At the Federal Bureau of Prisons, being a Correctional Officer goes beyond the uniform and law-enforcement benefits. You're building a rewarding career helping inmates on the inside succeed when they get back on the outside. Join our team.
Pay Levels GL 05, GL 06, GL 07, GL 08
Full and comprehensive benefits
Opportunities for advancement
Basic Correctional Officer requirements:
Oral communication
Interpersonal skills
Writing
Organizational awareness
Managing human resources
Stress tolerance
For consideration at the GS-05 level:
To be considered at the GS-05 level, requires successful completion of a full 4-year course of study in any field leading to a bachelor's degree from an accredited college or university.
OR
You must have at least 3 years of full-time general experience, one of which is equivalent to the GS-04 grade level, or one year of specialized experience. This experience must demonstrate the aptitude for acquiring knowledge and skills required for correctional work. It also must demonstrate the possession of personal attributes important to the effectiveness of correctional officers:
Ability to meet and deal with people of differing backgrounds and behavioral patterns
Ability to be persuasive in selling and influencing ideas
Ability to lead, supervise, and instruct others
Sympathetic attitude towards the welfare of others
Ability to reason and think out practical solutions to problems
Ability to make decisions and act quickly—even under stress
Poise and self-confidence, and ability to remain calm during emergencies
This general experience may have been gained in work such as:
Social case work in a welfare agency or counseling in other types of organizations
Classroom teaching or instructing
Responsible rehabilitation work, e.g., in an alcoholic rehabilitation program
Supervising planned recreational activities or active participation in community action programs
Management or supervisory work in a business or other organization that included directing the work flow and/or direct supervision of others
Persuasive sales work or commissioned sales work, other than taking and filing orders as in over the-counter sales
For consideration at the GS-06 level:
9 semester hours or 14 quarter hours of graduate study, from an accredited school, in:
Criminal Justice
Criminology
Social Science
Another field of study related to the position such as law
OR
You need 1 year of specialized experience equivalent in difficulty to the next-lower grade level in Federal service. This experience must have equipped you with the particular knowledge and skills to perform the duties of the position:
Ensuring individuals confined in a correctional or mental health facility adhere to rules
Responding to domestic disturbances
Apprehending and arresting individuals violating the law
Examples of occupations where specialized experience may have been gained:
Correctional Officer
Detention Officer
Police Officer
Border Patrol Agent
State Trooper
Sheriff
Park Ranger
Deputy Sheriff supervising inmates in a jail
Mental Health Residential Facility Worker
Some examples of this qualifying experience are:
Providing supervision, care and security of inmates plus guidance to lower-graded Correctional Officers
Supervising inmates in living quarters and instructing them in housekeeping and sanitation
Working as a Police Officer responding to domestic disturbances and issuing citations
Experience in investigating crime scenes as a State Trooper
Experience as a Mental Health Worker in a mental health lockdown facility.
Enforcing rules and regulations governing facility security, inmate accountability and inmate conduct to ensure judicial sanctions are carried out and inmates remain in custody
Age Requirement
At time of appointment, applicants must not have reached their 37th birthday unless they previously served in a Federal civilian law enforcement position covered by special civil service retirement provisions, including early or mandatory retirement. Qualified Preference Eligible Veterans may be exempt from meeting the maximum entry age of 37.
WE'RE HIRING NATIONWIDE. COME WORK ON THE INSIDE.
Correctional Officers are vital at the Federal Bureau of Prisons. To fill these high-priority positions, we look for qualified individuals year-round and nationwide. We have immediate openings at facilities in multiple locations.
Apply now for a Correctional Officer position below:
Find direct hire* GL-05, GL-06, GL-07 Correctional Officer opportunities in these locations:
If you qualify as a GL-08 Correctional Officer and are interested in the above locations, please click here.
*Direct hire opportunities allow you to work directly with the hiring institution, bypassing the USAJOBS application. To apply for the Correctional Officer position at these locations, please submit a complete application packet to the email address indicated in the job announcement.
Hints and tips.
Check out the application process for helpful tips.
Please consider the following locations that have immediate vacancies: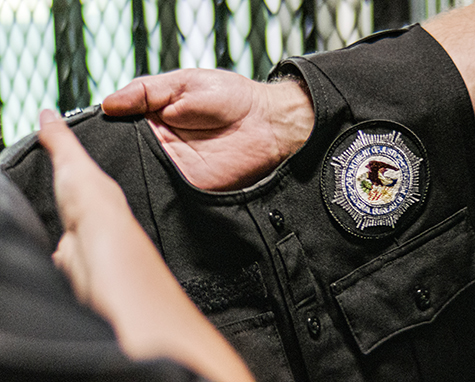 TAKE CHARGE OF YOUR CAREER, IN PRISON.
The Federal Bureau of Prisons is a unique agency in the United States Department of Justice. As a Correctional Officer here, your performance makes a real difference every day. And in our transparent promotion structure, that performance gets noticed. There are definitely benefits to working in prison:
Supportive, safe, and secure working environment
Opportunity for career growth and advancement
Competitive federal government salary and benefits
Comprehensive healthcare and law-enforcement retirement
Potential for recruitment incentives
Flexible work options and facility locations to choose from