Dentist
Job Series Number: 0680


Health Services at the BOP
Dentists (
Dental Officers
) are responsible for the full range of dental care provided to inmates, including prevention, diagnosis and treatment of diseases, injury, and deformities of the oral cavity.
Pay Levels GS-12, GS-13
Education
You must have a degree in dental surgery (D.D.S.) or dental medicine (D.M.D.) from a school approved by the Council on Dental Education, American Dental Association (ADA). Other dental schools are acceptable provided the education and knowledge acquired was substantially equivalent to that of graduates from an ADA-approved school.
Licensure
You must be licensed to practice dentistry in a state, the District of Columbia, or Puerto Rico.
For consideration at the GS-12 level
One
of the following statements must apply to you:
you have two years of professional dentistry experience and/or training
you have demonstrated superior academic ability
For consideration at the GS-13 level
You must have three years of professional dentistry experience and/or training to at least that of a Board eligible, where your experience and/or training consists of one of the following:
post-licensure professional experience in the general practice of dentistry
approved internship training
approved residency training
graduate-level study in an accredited dental school
post-licensure professional experience in a specialized area of practice
other advanced study or training outside of dental school or hospital creditable towards satisfaction of training program requirements for Board eligibility.
We are hiring for this position at many locations across the country.
Normally when a vacancy is announced, it's for a job opening at a specific location. However, because this position is in high demand it's considered an "open-continuous" announcement. That means you get to choose your top two facilities that you want to work at. Here's how it works:
Apply for this position using the usajobs.gov website as you would do with any other federal job.


Dentist

Open-Continuous Announcement
Select any two locations that you want to work at.
View all of our locations
After your application is accepted, you will be added to a standing register of qualified candidates.
When a position becomes available at one of the facilities that you selected, you will be considered for that position, and if you are selected we will contact you with an offer.
It's that simple!
Please consider the following locations that have immediate vacancies: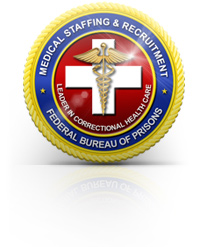 Join the leader in Correctional Health Care
We value your unique contribution to our collaborative team medicine approach of providing health care. Come and experience a level of clinical diversity and continuity of care not commonly available in the private sector.
We offer:
A supportive, safe, and secure environment with opportunity for growth and advancement.
A competitive federal government salary and benefits, including health care and retirement.
Potential for loan repayment.
Potential for recruitment incentives.
Flexible work options.
Learn what has motivated more than 37,000 people to join the BOP