Pharmacist
Job Series Number: 0660


Health Services at the BOP
Pharmacists work as part of an interdisciplinary team with other healthcare professionals within a correctional facility. Pharmacist responsibilities include: ajudication of the medication order, dispensing, counseling, educating (staff & patients), and monitoring the safe and appropriate use of medications while following BOP Clinical Practice Guidelines and the national formulary. Viewed as healthcare providers and equal partners in health, pharmacists routinely enter into collaborative practice agreements with physicians in order to manage a variety of disease states, medications, and preventive health services. The areas of physician-pharmacist collaborations continue to expand, thereby increasing access to care and improving clinical outcomes. These collaborations include, but are not limited to: anticoagulation, immunizations, diabetes mellitus, HIV, and hepatitis.
Education
You must have a Bachelor's degree (4 year study) in pharmacy recognized by the American Council on Pharmaceutical Education.
Licensure
You must be licensed to practice pharmacy in a state, territory of the United States, or the District of Columbia.
For consideration at the GS-11 level
You must have:
6 year course of study leading to a Doctor of Pharmacy (Pharm.D.) degree
AND
1 year of professional pharmacy experience
We are hiring for this position at many locations across the country.
Normally when a vacancy is announced, it's for a job opening at a specific location. However, because this position is in high demand it's considered an "open-continuous" announcement. That means you get to choose your top two facilities that you want to work at. Here's how it works:
Apply for this position using the usajobs.gov website as you would do with any other federal job.

Select any two locations that you want to work at.
View all of our locations
After your application is accepted, you will be added to a standing register of qualified candidates.
When a position becomes available at one of the facilities that you selected, you will be considered for that position, and if you are selected we will contact you with an offer.
It's that simple!
Please consider the following locations that have immediate vacancies: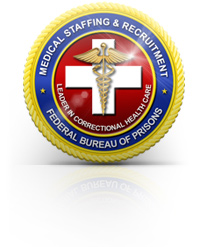 Join the leader in Correctional Health Care
We value your unique contribution to our collaborative team medicine approach of providing health care. Come and experience a level of clinical diversity and continuity of care not commonly available in the private sector.
We offer:
A supportive, safe, and secure environment with opportunity for growth and advancement.
A competitive federal government salary and benefits, including health care and retirement.
Potential for loan repayment.
Potential for recruitment incentives.
Flexible work options.
Learn what has motivated more than 37,000 people to join the BOP