Alcatraz Origins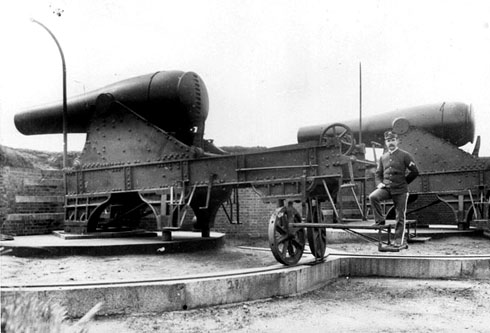 The name Alcatraz is derived from the Spanish "Alcatraces." In 1775, the Spanish explorer Juan Manuel de Ayala was the first to sail into what is now known as San Francisco Bay - his expedition mapped the bay and named one of the three islands Alcatraces. Over time, the name was Anglicized to Alcatraz. While the exact meaning is still debated, Alcatraz is usually defined as meaning "pelican" or "strange bird."
In 1850, a presidential order set aside the island for possible use as a United States military reservation. The California Gold Rush, the resulting boom in the growth of San Francisco, and the need to protect San Francisco Bay led the U.S. Army to build a Citadel, or fortress, at the top of the island in the early 1850s. The Army also made plans to install more than 100 cannons on the island, making Alcatraz the most heavily fortified military site on the West Coast. Together with Fort Point and Lime Point, Alcatraz formed a "triangle of defense" designed to protect the entrance to the bay. The island was also the site of the first operational lighthouse on the West Coast of the United States.
By the late 1850s, the first military prisoners were being housed on the island. While the defensive necessity of Alcatraz diminished over time (the island never fired its guns in battle), its role as a prison would continue for more than 100 years. In 1909, the Army tore down the Citadel, leaving its basement level to serve as the foundation for a new military prison. From 1909 through 1911, the military prisoners on Alcatraz built the new prison, which was designated the Pacific Branch, U.S. Disciplinary Barracks for the U.S. Army. It was this prison building that later became famous as "The Rock."
The U.S. Army used the island for more than 80 years--from 1850 until 1933, when the island was transferred to the U.S. Department of Justice for use by the Federal Bureau of Prisons. The Federal Government had decided to open a maximum-security, minimum-privilege penitentiary to deal with the most incorrigible inmates in Federal prisons, and to show the law-abiding public that the Federal Government was serious about stopping the rampant crime of the 1920s and 1930s.